BlockShare Pilot
A free Wi-Fi Internet pilot project of Windsor Park Foundation and ChiCommons LWCA
Do you live within the area shown in the map below (within 1 block of Windsor Park Evangelical Lutheran Church or within 1 block of Rainbow Sub Shop)? Then you may qualify for a free Wi-Fi service pilot program! Click on the button below to apply. More residents will qualify as we expand service area.
Community-owned Internet for South Shore
According to an article from Block Club Chicago dated January 15, 2021, two of Chicago's top 10 census areas with the most households in need of broadband internet access are in South Shore. Some concerns raised by residents include:
limited access to free Wi-Fi
not enough information about what makes the neighborhood a great place to live
low volume of commercial activity
no place online where neighbors can communicate with each other
Starting with the existing Windsor Park Evangelical Lutheran Church wi-fi signal, ChicCommons will extend it throughout the immediate serviceable area (see adjacent map). With this pilot we'll demonstrate the ability to serve the entire South Shore Community Area.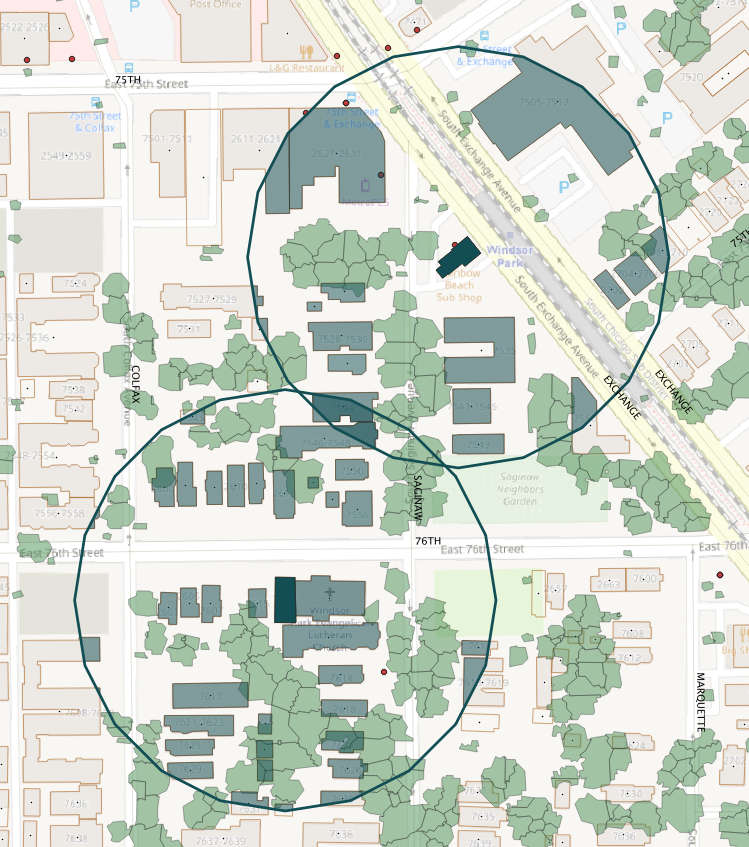 Pilot Details
For the duration of the pilot, we agree to
Provide wireless networking equipment, to which we retain ownership
One wireless dual-band access point for your residence during the pilot
Provide wireless infrastructure allowing you to connect to ChiCommons network and Internet
Install this equipment in a designated room of your residence
Provide you Internet bandwidth of maximum 50Mbps via wireless access
Provide technical and customer service support
Monitor quality of service
Provide support only for the services provided, including equipment and Internet connectivity, and not including support for applications, like Zoom, Google Apps, etc. or customer owned devices
For the duration of the pilot, you agree to
Exclusively use ChiCommons products and services described above for your Internet connection
To all usage requirements set forth in the Pilot Agreement
Assume responsibility for the equipment provided and will return equipment in the same condition as originally provided
To maintain your password privately and not share it with anyone
To provide feedback about the services and your experiences during and after the pilot test period
Pilot Partners
Community Incubator
ChiCommons is a multi-stakeholder, worker owned, limited worker cooperative association registered in Illinois. We recognize that big technology challenges include a lack of universal access to broadband and technical education where people can learn technology. We intend to co-build a sustainable Wi-Fi infrastructure with South Shore community partner organizations and households in order to overcome this challenge.
We also believe in the positive power of communities working together to build their own communal life. We provide the technology tools to make this a reality. This Wi-Fi technology project is just laying the foundation for tools that we'll build on top of it to provide a platform for sharing and communications within the neighborhood that support a vibrant community.
Community Wi-Fi Hub
Veterans groups in South Shore were having a hard time getting vets connected to the internet, so they've brought in a military-grade solution. Leave No Veteran Behind "cut the wire" on a new network that beams a high-speed wireless connection from the Museum of Science and Industry in Hyde Park to Windsor Park Lutheran Church
Windsor Park Evangelical Lutheran Church has been in the South Shore neighborhood for more than100 years. In that time they've seen their neighborhood, and in turn the needs of the community, change significantly. Access to reliable and affordable WiFi still lags inthei the neighborhood (27 percent of residents still did not have broadband access at home as of 2013), making it difficult for students to complete homework assignments and residents to apply for jobs.
Broadband products provider
Cambium Networks entered the battlefield by providing and installing the hardware and furthermore engaged their partner American Wide Broadband to supply Internet connectivity. Cambium Networks has continued to give technical support to the Wi-Fi hub at Windsor Park Lutheran Church since it's launch in 2016.
In partnership with Leave No Veteran Behind and American Wide Broadband, the community hub leverages free, high speed, Wi-Fi broadband connectivity to improve the lives of the church, its programs, and neighborhood residents passing by. Another transceiver has been installed at the Rainbow Sub Shop several blocks away from the church, providing a foundation for further expansion. Cambium Networks is providing additional units for residents to join the network and and Internet.